A collection of Amigurumi Angel Doll Crochet Patterns Free and Paid as usual at the bottom. Angels have a solid place in the Christmas season and certainly in the nativity story. And when crocheted they're unbelievably cute! This article feature my favorite FREE patterns accessible on the web. Will you choose to make one of these designs our Crochet Channel is going to share below. Some will become fast favorites to make as an ornament for your Christmas tree, to give as a super cute present to friends and family or just to snuggle with on the couch on those long winter evenings. Though some of these patterns are quite tricky to make and therefore more suited for more experienced crocheters I'm sure their wonderful faces and sheer cuteness will provide Christmas inspiration for all. Dive in and get yours no matter what languages you are looking for! Scroll down and see what we have found for you all. We would love to invite you to join our Pinterest Group for the latest and be sure to follow our Crochet Page, too.
Read more:
Crochet Angel Free Patterns For A Holy Christmas Decoration
Wonderful Christmas Ornament Crochet Free Patterns
DIY Crochet Christmas Ornament Free Patterns
Crochet Christmas Angel
Image and Free Pattern : W Pogoni
Crochet Valentine's Cupid
I give you my heart Valentine's Cupid Free Pattern. Image and Free Pattern : Haru Leven Handicrafts.
Lovely Angel
The website shows this same pattern with different hairstyles, so get over there and take a look to choose your favorite! I just love the was she's holding her arms and hands in front of her. If you'd like you can have her hold a little Christmas bell, or a heart or some holly – anything goes! Image and Free Pattern: Nelly Handmade; English: Amigurumi Today
Crochet Little love Angel
Image and Free Pattern : La Calle de La Abuela
Crochet Silly little Angel
Image and Free Pattern : Amigurumi BB
Angel Boys and Girls
These little amigurumi dolls are perfect as an ornament in your Christmas tree or for giving away to friends and family to spread the Christmas cheer. Image and Free Pattern: DoubleTrebleTrinkets
Crochet Guardian Angel
This angel is quickly crocheted and with its simple style a wonderful guardian angel for close friends or dear relatives, pattern in Germany and translation is needed. Image and Free Pattern : Flauscheinhorn
Crochet Little Angel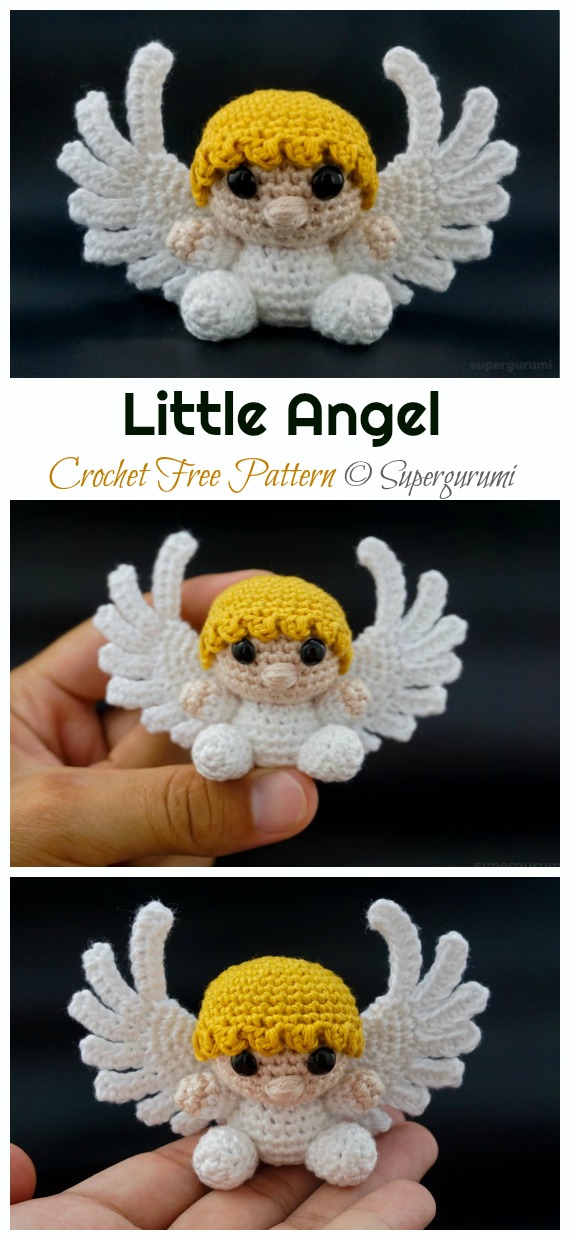 An angel brings you success, joy and happiness. Image and Free Pattern: Supergurumi
Originally posted 2020-02-07 23:24:40.