It is no unusual to craft with pebbles and rocks, and we can purchase these little stones in craft store already. While you are hunting for beautiful shaped rocks, you can now crochet a layer of clothing with these crochet pebble stone cozy free patterns Our Crochet Channel is going to share today with you yarn lovers. It is such a warm and creative idea to crochet these stone covers for your fairy or zen garden indoor, or scatter them over your spa table, or on the corner of your worktable to grant you enlightenment and tranquility. And these projects are easy for beginners to learn and for experienced crocheters to use out the hand spun or luxury yarn leftovers. With a bit creation from crochet rounds or doily patterns, you can even crochet your own style. They are so similar to crochet egg cozy, with you can bring the pattern, too.
Read also:
Crochet Easter Egg Cozy Cover & Holder Free Patterns
01. Crochet Covered Sea Stones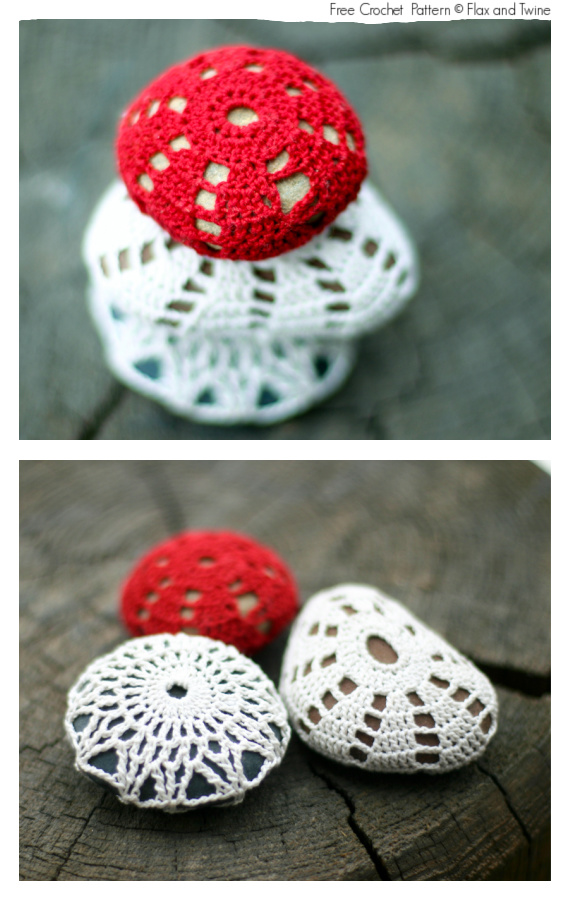 This gift to the crocheter's mother is part of the commitment to give only handmade gifts this year. Image: Flax and Twine; Free Pattern: Purl SOHO
The instructions are for a stone about 5 cm in diameter but can easily be adapted to any size. If you can crochet a chain, make a single and double crochet stitch then you are ready to make a covered stone. Image and Free Pattern: Purl SOHO
02. On the Rocks
Strewn across a table, stacked on a shelf or piled in a shallow bowl, you'll definitely want to pet these rocks. Image and Free Pattern: Simply Notable. Pattern discontinued, but easy to whip up with the picture. R1 – [2tr into magic ring , ch3] * 8; R2 – [3tr into ch3 space , ch5] * 8; R3 – [5sc into ch5 space , sc] * 8; R5 – ch4, (2 dc in ch space, ch 2) repeat; R6 – (ch3, sk ch 3 space, sc in next dc) repeat; Fasten off, leaving long end. Weave through R7 ch spaces, cinch tight, tie off.
03. Winter Berries Crochet Covered Stone
Making another "Winter Berries" crochet covered stone under a cloak of white snowflakes. Image and Free Pattern: Foothill Home Companion
04. Rainbow Mini Mandala Rock
You can use this mandala for ANYTHING, a mini dream catcher, an applique, a coasterImage and Free Pattern: Crochetverse Website
05. Zen Garden Willow Rocks
Image and Free Pattern: Elizabeth Gormley's Ravelry Store
06. Lacy River Rocks
Image: StrongandMellow; and Free Pattern: Margaret Oomen on Ravelry
07. Mor Glor Snowflake
They are the perfect addition to my garden collection, and I hope the pollinators are helping spread this gem all over the garden. Image and Free Pattern: Snow Catcher
08. Stone Fish Cozy
Keep your napkins or magazine in place during the barbeque with this fun stone fish cozy. Image and Free Pattern: Mrs Hooked
09. Crochet Flower Rock Cozy
That's a summery handicraft project that you can even take to the beach or the bathing lake: pebbles crocheted with cheerful floral patterns. Image and Free Pattern: Buttinette