Your Front Door and Porch is the first impression of your home. It reflects your own personality to some extent. So decorate your porch beautifully is an important task that all home owners need to put on agenda. Now it's time to make your front porch a even more welcoming appeal after checking through the following inspirational decorations. Our Home Decor Channel has a fabulous collection of 20 DIY porch decorating ideas to make your home even more inviting,  No matter your have a narrow door way of an apartment, or a long porch way or even a large deck of a house, scroll down and decide how best you can bring your styling to your own front porch and make your home more appealing from the curb.
Read Also:
10 UNEXPECTED DIY CONCRETE BLOCK FURNITURE PROJECTS [PICTURE INSTRUCTIONS]
10 DIY SOLAR LIGHT LIGHTING IDEAS [PICTURE INSTRUCTIONS]
01. Decorate your front door with Door Wreath
Decorate your wall with wreath or other seasonal decorations.
02. Custome Your Front Door Sign
Bring thrift wood into new art piece: this sign is a great addition to any front porch style. Paint it with any color that will compliment your front door and garden.
Image: From My Front Porch To Yours; Desi Bucket
03. Add Plants and Lights
Make a Front Porch Welcome Board behind Flower Pot.
Image: Home Deco 50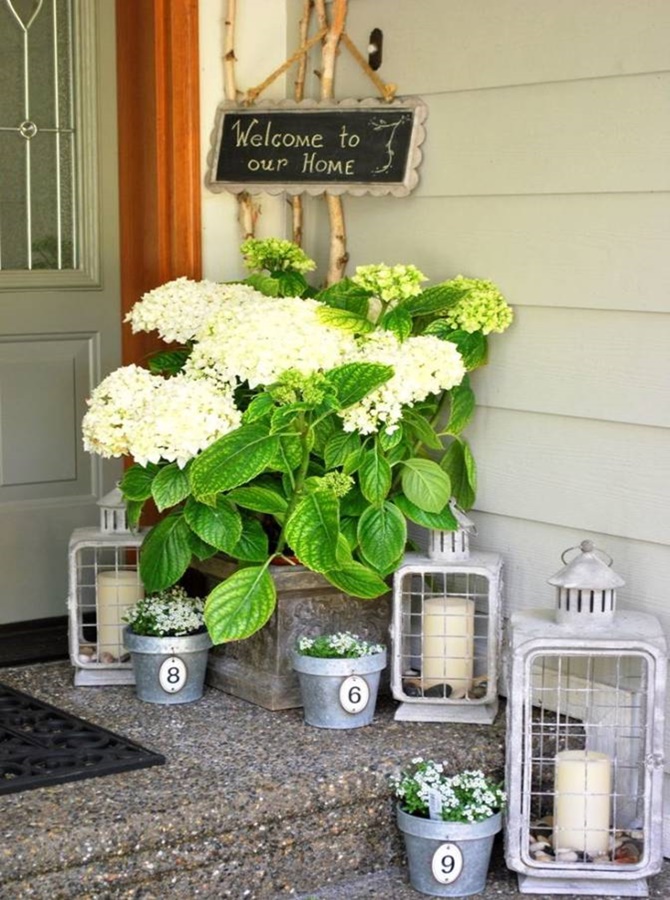 Image: Home Deco 50
04. A Hanging Swing
A Hanging swing can be a perfect snuggle place for you or your guests to relax. HGTV even added curtains for this beautiful porch area, making it more cozy for entertaining.
Image: HGTV
05. Add Decorative Pillow for Your Patio Seating Set
Outdoor pillows are another great way to bring inside coziness to your front porch.
Image: Lake Beach Living
06. Front Porch Flower Planter Pot
It's always right to add green in front of door, with tall flower pot planter or shrubs.
Image: Pintify
07.  Built-in Planter Box Garden Bench In One
If you have deck in front door, this built in bench with planter box can be the perfect divider and will save your a lot of space no matter you have deck wall or not.
Image:  the Interior Studio