When we are planning the container gardening in urban or small garden spaces, plan a perfect garden layout but we do not have enough space for all the plants we wish to have, going vertical is the must and ultimate solution. This Vertical Pyramid Tower project will bring to us that extra space we need for gardening and planting.  A pyramid planter is an ideal way of growing great quantity of garden produce, maximize our space as well as the fresh production. They're easy and inexpensive to build, especially when made from leftover timber wood from previous projects or recycled woods.
Related:
10  Space saving Strawberry Garden Gardening Planter Ideas and Instructions
20 DIY Upcycled Container Gardening Planters
12 Simple DIY Compost Bin Projects
A Vertical Garden Pyramid Tower
Image and Instructions: Removeandreplace.com
Garden Pyramid Planter
Image and Instructions: home-dzine.co.za
Herb Pyramid Raised Bed
If we can find the trapezoid cinder block or use pave stones to make this pyramid raised garden. By stacking the blocks in circle and lay the top layer to make as high as you wish.
Image and Instructions: Pottyinnovations.co.uk
Slot Together Pyramid Garden Planter
This handy simple project which makes the plant pyramid easier. It has a slot-based system as its core. You only have to make a few cuts from and into the pieces of a pallet and then just arrange your planks and plants to make your space saving vertical garden.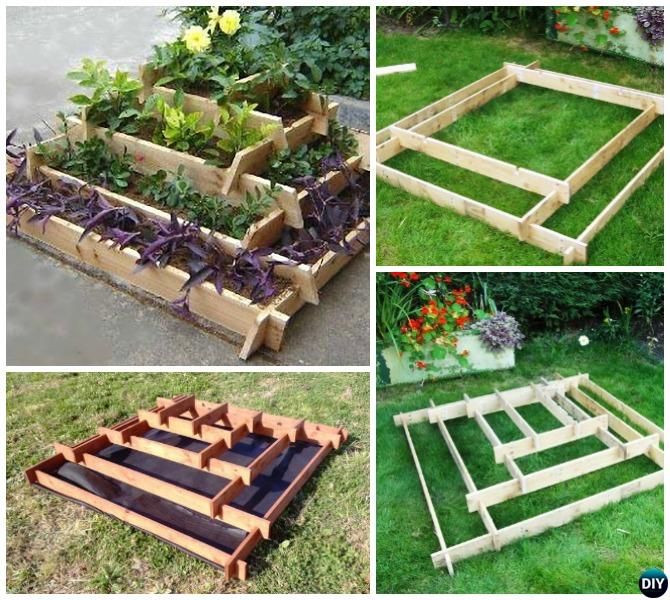 Image and Instructions: instructables
Image and Video Instructions: bonnie Plants
You may also love our collection of DIY Flower Clay Pot Tower Projects for Garden with gorgeous step by step instructions. Check out the gallery for more pyramid planter and raised garden beds ideas:
Image: Tumblr /  BSN Tech / Etsy/ SquareFoot Forum