PVC pipes may not be the first to come to mind while you're considering updating your home, but there are actually so many ways to use the material inside a home, some you may not have ever considered. It can be used to decorate or organize in such an easy and effective way. PVC pipes are perfect organizing material due to its inexpensiveness and versatile. They also come in different sizes, and can be cut certain length to suit your organizing needs.
To help you stay organized, here are 20 genius organizing tricks using PVC pipes to improve your home.  You'll be surprised that the solution to your organizing problem can be found in the plumbing aisle of your local hardware.
01. PVC Pipe Hair Dryer Caddy
Simple, yet completely effective PVC pipe hair dryer and iron caddy to withstand the heat and keep your vanity organized. You can also paint it to match your bathroom and mount it on the wall.
Image: Weekly Organizing Tips
02. PVC Pipe Drawer Organizer
Use PVC pipe scraps or cut them to required length for your drawer or closet for a perfect organizer for storing those small underwear, leggings, scarves and other accessories.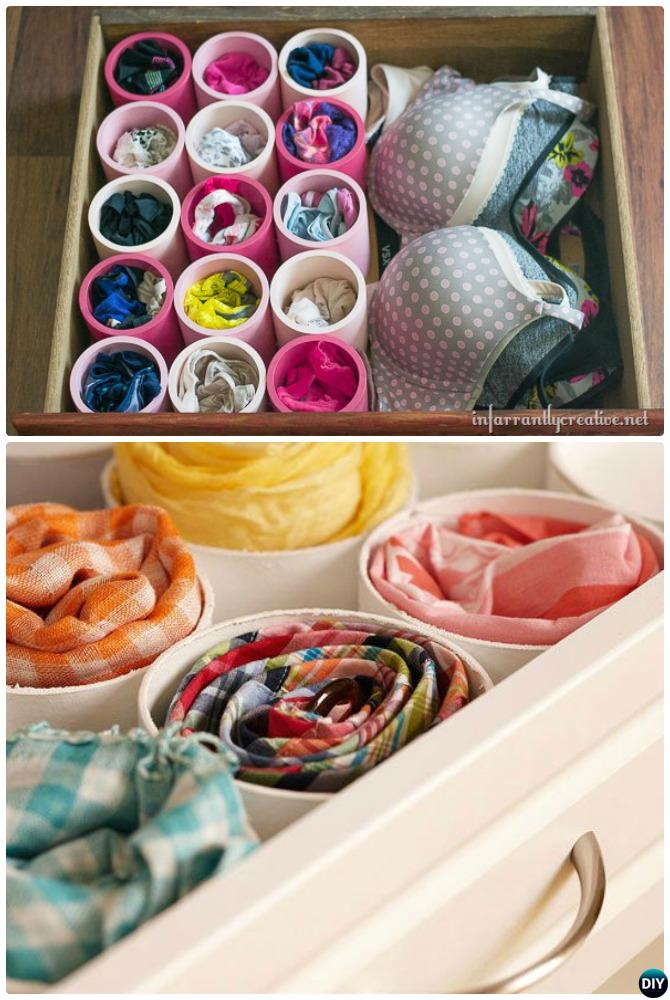 Image and Instructions: BHG / Infarrantly Creative
03. PVC Desk Organizer
A cheap and easy way to store all your desk essentials in one spot while having the ability to find everything you need quickly. Cut the pipes in different sizes (you can cute them straight or in the diagonal). Sand the edges to remove any splinter and make it unruffled and use permanent glue to fix the pipes together on a board.
Image: Lifehacker
Image and Instructions: Designs By Studio C
04. PVC Shoe Organizer
Shoes can be difficult to store in a way that keeps the pairs together unless you buy a shoe organizer. Instead, save your money and use PVC pipe to create your own.
Image and Instructions: Home Stories A to Z
Image: Pinterest
05. DIY PVC Pipe Wine Rack
Image and Instructions:Bob Villa
06. Vertical PVC Stack Wine Rack
Image: Apartment Therapy / Instructions:DIY Network