If you have an old dresser or a drawer that you are about to toss away, you will have changed your mind after you come across this superb collection of drawer gardening ideas. By stacking drawers or attaching legs to the drawer, fresh coat of paint you can transform the drawer into bright and wonderful mini gardens!!
Read more:
Recycle Old Drawer Furniture Ideas Around Your Home
DIY Recycled Tire Planter Ideas for Your Garden
20 DIY Upcycled Container Gardening Planters [Picture Instructions]
10 DIY Ways To Recycle Old Drawers for Garden
Our DIY Garden Channel has a collection of container gardening as following, and today we would love to focus on drawer garden projects. Repurpose old drawers you are going to dump and give them a new life for a beautiful garden with these creative container gardening ideas we will bring to you. By experience, some crafters suggest to use durable natural wood drawers when choosing the drawers for garden, always keep in mind to drill holes for water drainage and then fill it with dirt and plant flowers.
20 #diyprojects Upcycled Container #gardeningtips Planters [Instructions]
–>> https://t.co/UbQ52WubX9 pic.twitter.com/HYlFQlbGdU

— Marvin (@diyhowto_org) August 8, 2016
01. DIY Upcycled Drawer Planter Stand
Add a stand to make an easy movable drawer planter for home or patio.
Image and Instructions: Happy Together By Jess
02. DIY Dresser Drawer Garden Container
Image: Revistat; Instructions: HubPages
03. DIY Stacked Drawer Patio Garden
Image and Instructions: Birds and Blooms
04. DIY Drawer Garden Shelf
Image and Instructions: An Aiming High Wife
05. DIY Self Watering Drawer Planter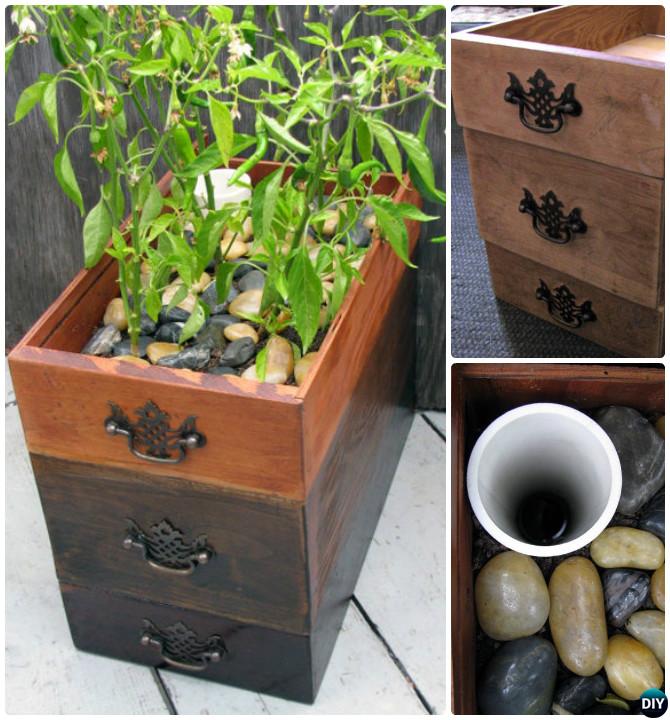 Image and Instructions: Instructables