A collection of DIY Wall Mounted Desk Free Plans with Picture Instructions. Whether you are renting apartment or having your own house, expanding your space to maximum would be a challenge for all home owners. You may love these compact solution to incorporate additional office work space by mounting desks onto wall. Today our Furniture Channel is going to share these DIY Wall Mounted Desks with Free Plans so you can create your own mounted desk with wood plank and some woodworking efforts. These desks occupy minimum space and good to make full use of the remaining little room to keep the family computer or even homework spot for kids, scroll down and see which one can be the extra working space in your home.
Read more:
30 DIY Space Saving Hacks to Organize Your Kitchen
10 Space Saving Kids Bedroom Furniture Design
30 DIY Wood Crate Furniture Ideas & Projects [Picture Instructions]
Recycle Old Drawer Furniture Ideas Around Your Home
01. Rustic Industrial Wall Mounted Desk
A rustic desk may look like an antique piece that's been given new life, but it's actually made using a few boards, some plywood, and stain. You could even re-purpose old dresser drawers to save time.  Image and Instructions: Houseful of Handmade
Repurposed Kitchen Table Wall-Mounted Desks
Make wall mounted desks for kids and adults alike by cutting the ends off on an old table and attaching it to the wall. The desks take up only a little space along the wall and are the perfect size for kids. Image and Instructions: Blesser House
DIY Murphy Desk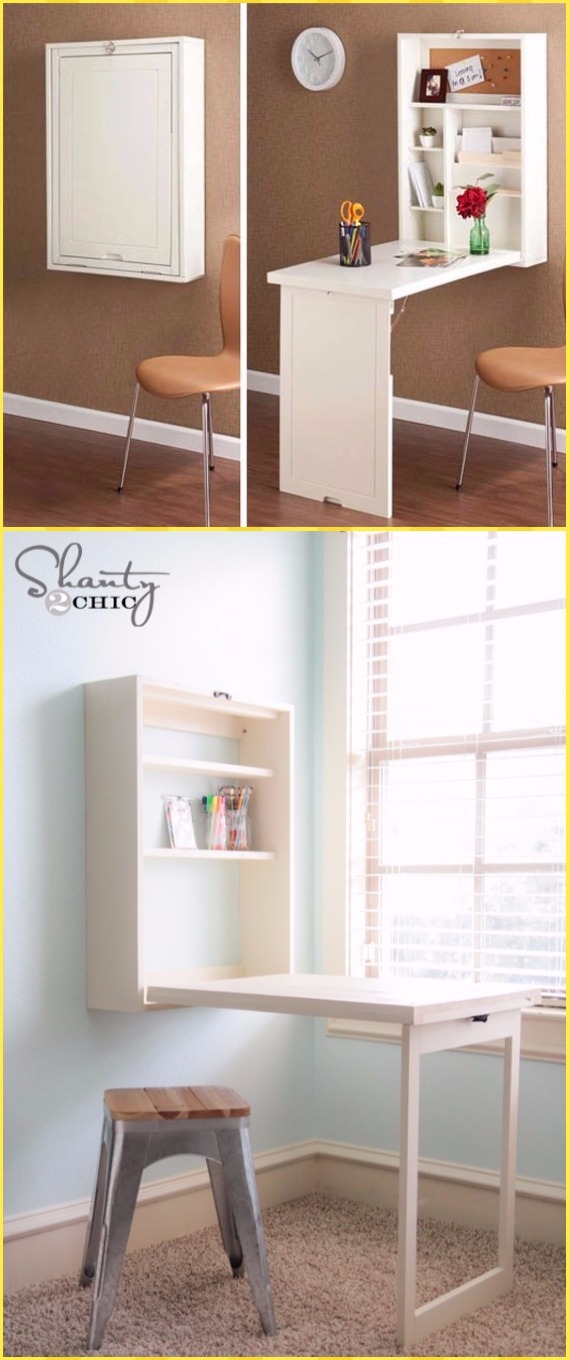 Image: Southern Enterprises [Top]; and Instructions: Shanty 2 Chic
DIY Kids Homework Hideaway Wall Desk
A wall-mounted, fold-down desk is the perfect art station for kids. It occupies little space on the wall and no floor space at all. Also, it has some storage inside for all the crayons and supplies and you can place at the perfect height so the kids can sit comfortably while using it. If you want, you can build the desk yourself or you can purchase one and add a few finishing touches to customize it. For example, you could paint the front and turn it into a chalkboard. Image and Instructions: Organized Mom
Wall Mounted Secretary Desk for Kids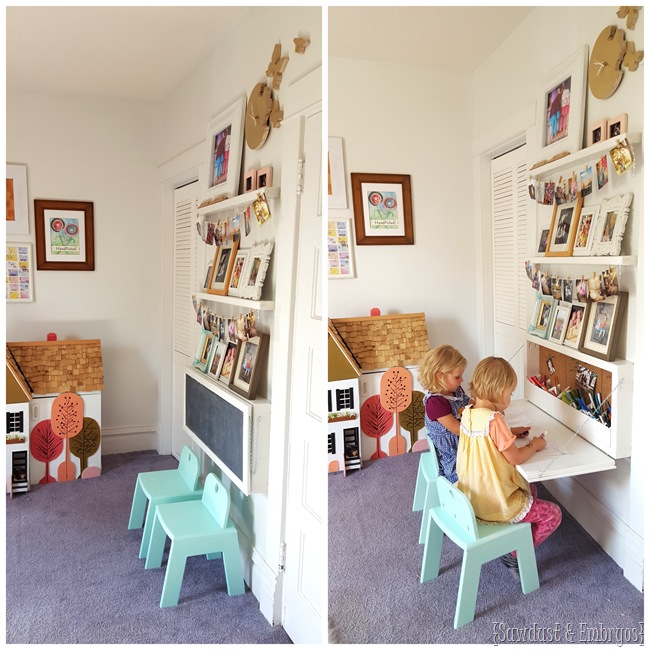 Here 's something you can do from some scrap wood pieces. you'll need a few wood board, screws, glue and a back panel. Put cork board on the inside of the panel so the kids can hang their creations there. don't forget about the storage. You could make compartments for all the crayons and pencils. And to make things even better, use chalkboard paint on the front of the desk. Image and Instructions: Reality Daydream
Originally posted 2017-12-09 00:45:01.