06. DIY Blop Paint Chip Lamp Shade
I've seen many things made with chips but nothing cooler than this blop lamp spotted on Design Milk. The chips just happen to be my favorite palettes of blue and green, and the construction isn't that difficult.  The result? A lamp that is completely designed with movement.
Image: Design Milk
07. DIY Paint Chip Butterfly Wreath

Image and Instructions: Craftionary.net
08. DIY Paint Chip Butterfly Wall Art
An easy-peasy artwork by punching butterflies out of paint chips and then glue them to a canvas with a frame.
Image and Instructions: Bright Star Kids
09. DIY Paint Chip Garland
Cut Paint Chip into any shaped to make garland for any celebrity.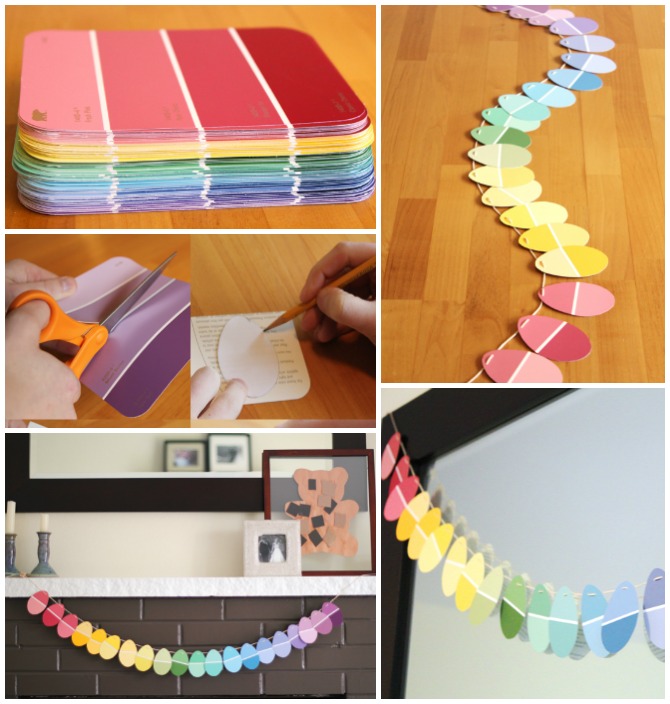 Image and Instructions: Modern Parents Messy Kids
Image: Rebekah gough/ Creature Conforts blog/ Oh Crafts
10. DIY Paint Chip Napkin Utensil Holder Table Setting
Image: My Hands Made It/ Sew Many Ways
11.DIY Paint Chip Coaster
For simple and colorful coasters simply mod-podge paint swatches to them.  Perfect for gift giving.  Since you saved so much on the coasters you could pair it with a cool mug and hot cocoa mix.
Image: Etsy / Instructions: Crafty CPA