09. Cutlery Tray Battery Organizer
Keep your battery organized with a cutlery tray by sorting them into each compartment so that you never have to scramble to find the right one again.
Image: Honey We're Home
10. Cutlery Tray Workshop Tool Organizer
Arrange all the tools in your drawer in any reasonable order by using cutlery trays to keep the tools tidy,
Image and Instructions: The Family Handyman
11. DIY Cutlery Tray Stationary Organizer
Keep kids coloring box or pencil box organized with the help of a few trays, allowing them to explore their creativity as freely as they want.
Image: I Heart Organizing
12. Cutlery Tray Dental Care Organizer
Apply all your toothbrush, toothpaste and other dental hygiene supplies in order.
Image: Little Penelope Lane
13. Cutlery Tray Cosmetic Tool Organizer
Makeup drawers can easily be getting cluttered for most ladies and the help of a cutlery tray can do wonders for keeping everything tidy.
Image: Unknown
14. Wall Mounted Cutlery Tray Shelf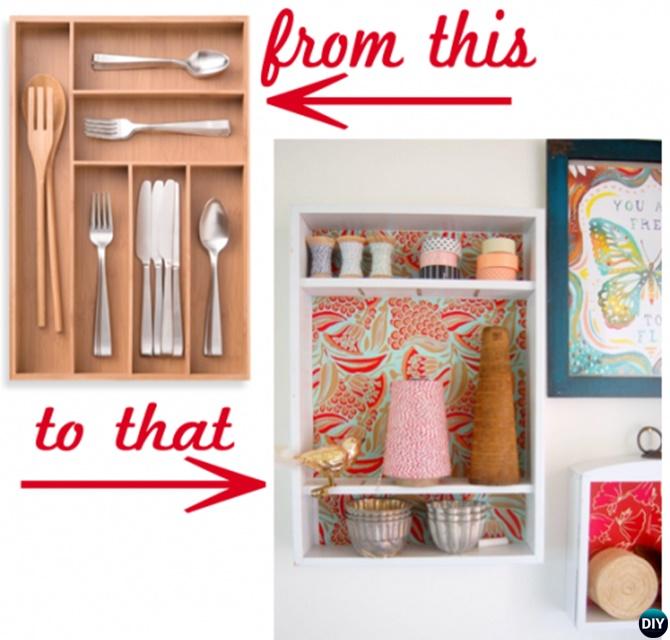 Image and Instructions: Going Home to Roost
15. Cutlery Tray Makeup Organizer
Image: All Operators Blogspot
16. DIY Cutlery Tray Jewelry Holder
Image and Instructions: The Jungalow