Do you love having bird bath in your garden and watching birds splashing with joy in it? If yes then making a terracotta pots bird bath can be your next project to try this spring. You can stack clay pots to make a clay pot tower bird bath, paint or decorate with mosaic CDs, pebbles or hang clay pots, they are so many creative ways to personalize your own, and bring life to your garden will be a fun and blessing for sure.
01. Mosaic Tile Birdbath using Recycled DVDs
This mosaic birdbath is an fantastic idea to decorate the clay pot with old CD's and DVD's. The tutorial itself is not with clay pot, but inspired by mosaic gazing flower pot with CD !
Image and Instructions:: Me and My
02. DIY Stacked Clay Pot Bird Feeder Instructions
To make a three tier bird bath you have to stack three clay pots of different sizes over each other and as you stack each pot apply silicone adhesive. On the top most pot glue a terracotta saucer. When the adhesive has dried, paint the pots in the color of your choice and make designs too if you like. Spray the painted pots with a sealer, let the bird bath dry.
Image and Instructions: pinterest , words from willow
03. DIY Marble Paint Clay Pot Bird Feeder
This is another design of bird bath from clay pot stacking and painting, personalized with kids hand-prints.
Image and Instructions:  in lieu of preschool
04. Hanging Flower pot Bird-Feeder
Here's a cute bird feeder that you will love to make out of flower clay pot and saucer pan.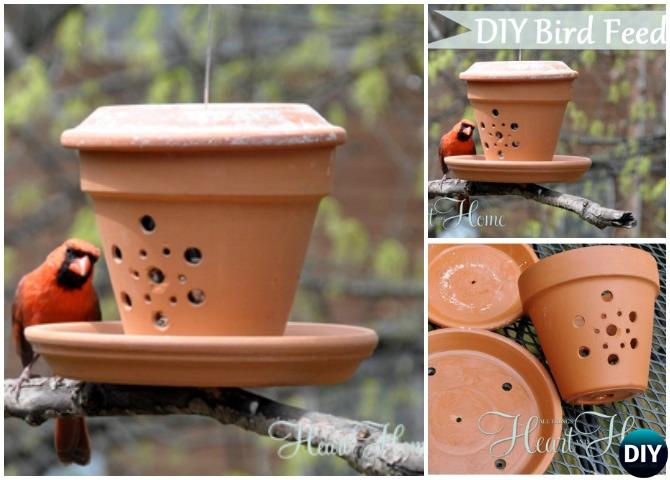 Image and Instructions:  DIY How To
05. Easy Place Inside Hanging Clay Pot Bath
How cool is this DIY birdbath? Making this is super easy. You simply hang the grapevine wreath using rope and then add a terracotta saucer inside the wreath. The faux leaves are optional but I think they look very cute. You can design yours using artificial flowers, too.
Image: Pinterest
06. DIY Flower Clay Pot Bird Feeder
This project design and idea was made by Dariela from Mami Talks. She had such a great and creative idea behind this prohect. We also love the bright colors of this DIY bird bath, but you can use any color to match your landscape design and colors.  This can be made with the affordable plastic flower pots that have the detachable bases that you can get from even the super stores like Walmart, Home Depot, etc. So great and lovely!
Image and Instructions: Mami talks