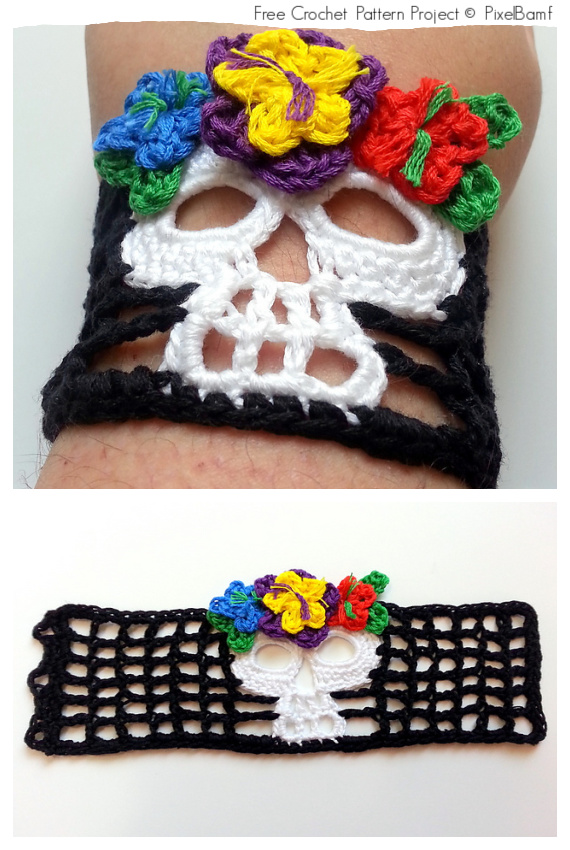 11. Crochet Dead Skull Bracelet: Can be made up with #10 crochet thread, or 4 skeins embroidery floss( for just the bracelet) The flowers take just a few yards of contrasting colors. Image: PixelBamf; Free Pattern: Spider Mambo on Ravelry.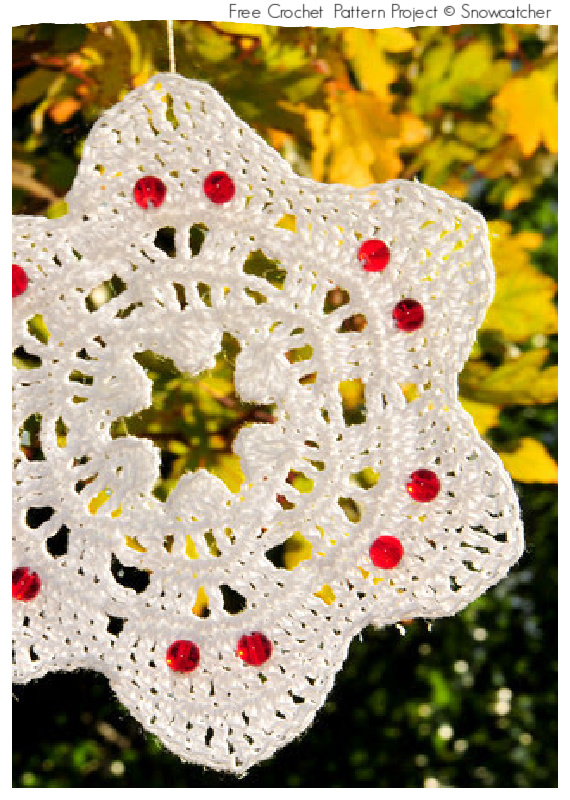 12. Skullflake: The holes in the flake looked almost like a skull face. Image and Free Pattern: Snowcatcher
13. Erishkigal Skully Snowflake: This snowflake is large, about 9 to 10 inches in diameter. It would make a great candle doily as well. Image and Free Pattern: Warmer than A Witchs Knits
14. Crochet Trick or Treat Bags: Image and Free Pattern: Spider Mambo on Ravelry, More Crochet Kids Bag Free Patterns.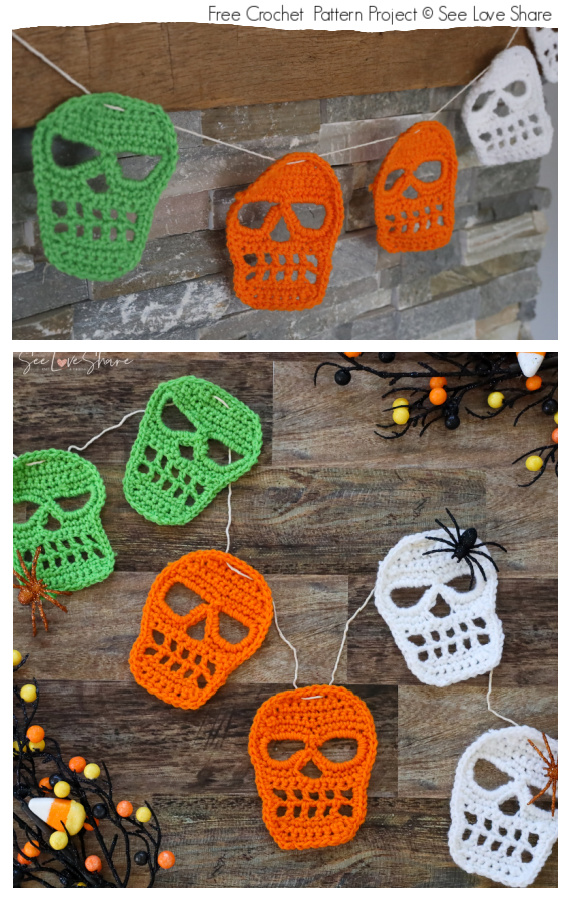 15. Halloween Skull Garland: A fun one to work up. If you're a speedy crocheter, each skull will take you about 15 mins to work up and if you're a beginner, we will walk you through the pattern step-by-step, so you'll get them done in no time! Image and Free Pattern: SeeLoveShare.
The following are spectacular paid patterns of crochet skull projects, check it if you don't mind of paying the wee fee there.
16. Sugar Skull Mask: Celebrate the Day of the Dead with this pretty crocheted Sugar Skull Mask! This pattern requires joining motifs together, with a joining picot, as you work through the directions. Image and Paid Pattern: HugAHooker on Etsy.
17. Friday the Thirteenth Skull Cardigan: make a skull cardigan with wrap featuring a minimum of 16 skull granny squares that can be worn 2 ways: tied up loosely OR wrapped around the body for a tighter fit. Image and Paid Pattern: DarkSoulCrochet.
14. Bone Dance Creepy Skull Circle Vest: Image and Paid Pattern: Spider Mambo; More Free Crochet Circle Vest Free Patternns.