Easter is here, and girls are tempt to wear all the bright dresses and skirts everywhere, and if you want to crochet some skirts flirting with a t-shirt and cardigan, you can join our crocheting team. Our Crochet Channel today is going to share a collection of Crochet Girls skirts with Free Patterns right for this season. The list covers different stitches and design for the skirts of little girls, adjust the size by measuring the waist before starting your stitches. Scroll down and see what you can crochet for your girls, and you.
Read more:
Crochet Girls Dress Free Patterns
Crochet Tutu Dress Bodice Free Patterns
Crochet Kids Sweater Tops Free Patterns
Crochet Kid's Sweater Coat Free Patterns
Crochet Women Dress Free Patterns
Rippled Skirt
This skirt can be long or short, and comes in sizes toddler to adult 5x – so there is something for everyone! Made with a basic ripple, it is really quite easy. The pattern is listed as intermediate because of the waistband, but just take it one stitch at a time and you will have no worries.  Image: Somethingbyvera; and Free Pattern: JessieAtHome.
Sedona Toddler Skirt
Work rounds of skirt in continuous spiral without joining. Lower ruffle is worked in joined rounds as part of the skirt. The upper ruffle is worked separately and then sewn on, above lower ruffle. Image and Free Pattern: Caron International
Sweet & Sassy Twirly Skirt
Putting on a new skirt and twirling around to see just how high you can get it to go should be a part of every young lady's childhood memories. Image and Paid Pattern: A Crocheted Simplicity
Tiered Ruffle Skirt
The Tired Ruffle Skirt may look difficult but it is easy enough for an advanced beginner, written for girl sizes XXS/2, XS/4, S/6, M/8-10, and L/12-14. Image and Paid Pattern: KT and the Squid.
MerShell Skirt
Very texturized and fun to make! Image and Paid Pattern: Crazy4CrochetMomma
The Kenzie Skirt
This specific pattern is written for child size (fits 4-7yrs) and uses 1 full skein of Lion Brand Mandala. The finished piece is on the heavier side so it's the perfect addition to any little girls fall wardrobe as it looks adorable worn over leggings. Image and Free Pattern: Above The Clouds Crochet
A Little Mermaid Skirt
The netting pattern in this skirt was chosen for its resemblance to fish scales, and I designed it with a slit in front so that your little land mermaid can run freely in it without tripping on it. It's also very stretchy, so although the hem will get higher as your mermaid grows, she can probably still wear this skirt for another summer or two before it no longer fits. Image and Free Pattern: Crochet Kitten
Layered Shell Stitch Skirt
Image and Free Pattern: Falando de Crochet Blogspot
Pleated Mini crochet skirt 
An easy pattern for a cute pleated mini skirt for little girls with an elasticized waist, very practical to put on and take off. You can choose to work the skirt in one solid color, or make a vertical striped skirt using 2 or more colors, like pictured. Image: Marion1978; and Free Pattern: My Hobby is Crochet
Baby Bloom Set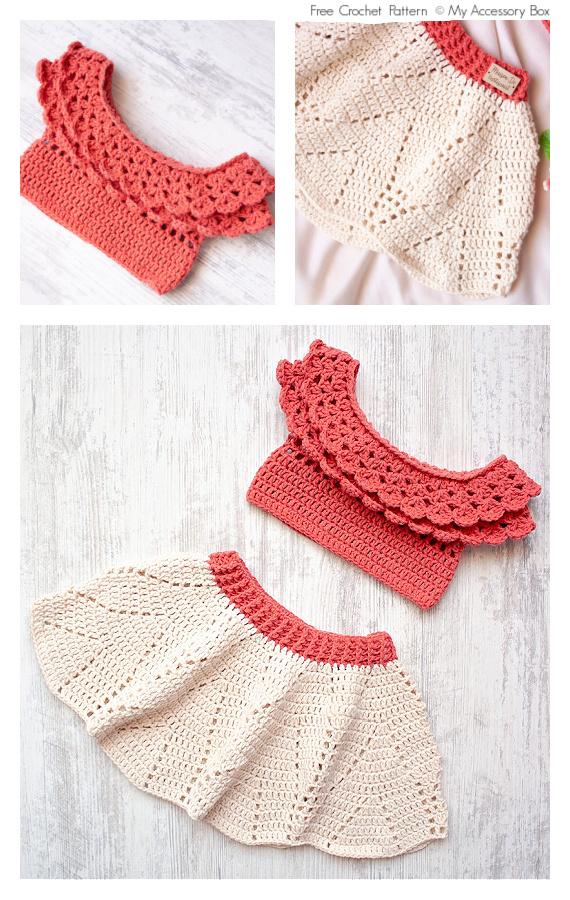 The baby bloom crochet set is an easy pattern and has straight forward instructions, it is a set of a skirt and a crop top that are easy to adjust by length. Image and Free Pattern: My Accessory Box
Ruffled Skirt Free Pattern [Video]
Image and Paid Pattern: Emi Harrington on Ravelry; Video: Hectanooga on Youtube