We have seen many versions of leaf garden projects in the DIY community, and today our Garden channel is going to making the complete guide on making the concrete leaf garden with different ideas and instructions since we are going to make some mini leaf trays in our room decoration. We can pick any big leaves (or small ones if we want to make indoor display and decoration) but most often we can use rhubarb leaves because it's more common in America. These leaves can be used both outdoors and indoors by creating beauty to our yard as sand cast birdbath, stepping stones, jewelry tray or simply an art display. They are a lot of fun to make, if you have rhubarb leaves in your garden, or any plants with large, interesting leaves, you can create your own unique leaf garden by scrolling down our guide below.
You May Also Love:
DIY Concrete Planter Ideas Projects [Picture Instructions]
10 Unexpected DIY Concrete Block Furniture Projects
01. Pick Up Your Rhubard Leaf
We see rhubarb stems in supermarket, they can be widely used in many recipes. But you may never know rhubarb leaves are really poisonous! So be cautious to pull the rhubarb leaf before your start your own project. Getty shares an useful article on knowledge we need to know about rhubarb as well as recipes.
Image and Instructions: Getty Stewart
02. Concrete Sand Cast Birdbath
Brief How to: Choose a leaf with deep, visibly defined veins, pour the concrete mix on a large tray or baking sheet. Make the mound larger than the leaf. Cover the leaf with plastic wrap. Mound concrete in the center of the leaf, then smooth it carefully to the outer edges of the leaf, adding more concrete as needed. Let the mixture dry for days, then flip the leaf and carefully peel away the plastic wrap, and carefully shape the edges of the leaves smooth with wire brush.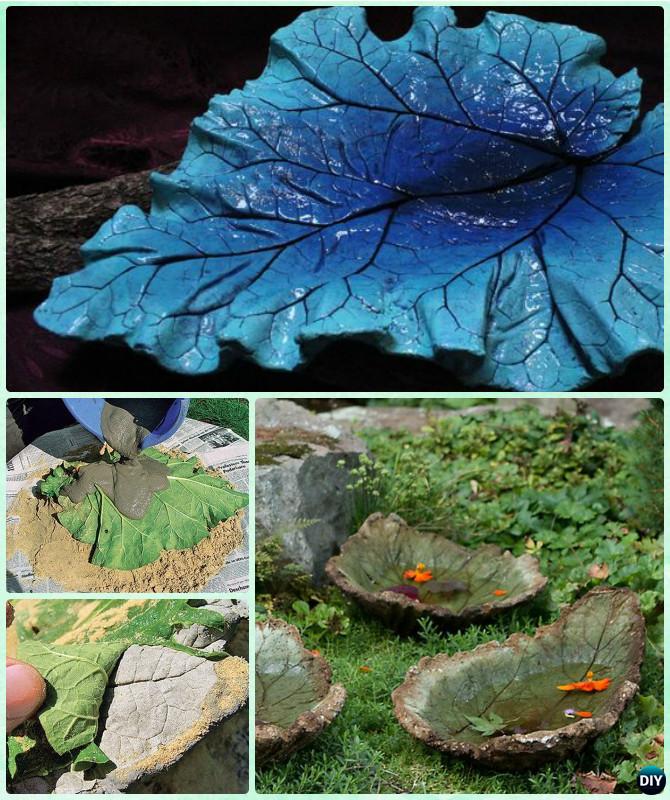 Image and Instructions: Instructables; Garden Gate Magazine
03. Concrete Leaf Stepping Stone
We can make concrete garden stepping stones to make it stay in garden forever. With the same technique above but make the mold flat at its surface.
Image and Instructions: HGTV
The leaf-shaped stepping stones look great in any environment as they lead family and friends up the garden path!
Images: HGTV, Garden Web
Design your patterns while laying these stepping stones in your garden. Or make it in circle with frames or cake pan during shaping. You can learn how to make cake pan stepping stones here, too.
Image and Instructions: Craft By Photo & Garden Ttherapy CA