DIY Crochet Beanie Hat Free Patterns For All Ages. Crochet Beanie Hats are perfect for unisex at all ages and never go out of style. Our Crochet Channel is going to share a wonderful collection of beanie hat with crochet patterns free to keep you busy and cozy this coming season. They keep your head and ears warm in the winter or cool in the summer, they cover up a bad hair day, and they add the perfect finishing touch to an outfit. Crochet hats can protect your hair, scalp, and ears from the sun's harmful rays and keep the light out of your eyes, too. Keep your baby's head warm in cool weather with a snug little cap. You can make any of these patterns because they are especially for beginners, who are new to crochet. Even if you are an experienced crocheter, these beginner hat patterns will be a snap to make for any occasion. Scroll down and adjust the size to crochet for your whole family with all free DIY crochet beanie hat patterns below.
Related:
Crochet Cable Hat Free Patterns
20 DIY Crochet Ear Flap Hat Free Patterns
Crochet Boys Sun Hat Free Patterns
Crochet Ponytail Messy Bun Hat Free Patterns
Crochet Women Sun Hat Free Patterns
First of all, adjust the sizes follow the crochet size guide from Lilia on Mango tree crafts for all the members before you start your project.
Image and Free Pattern: Mango Tree Crafts Blogspot
01. Basic Beanie
The Basic Beanie crochet pattern is perfect for making hats in any size! This pattern is great for beginners and can be completed in a short amount of time. Make perfect gifts for preemies, newborns, kids, teens or adults! This pattern is great for making charity hats. Pattern includes 7 sizes from preemie (or doll) to adults. . : Busy Mom DesignsCraft
02. Crochet Kids Car Hat Scarf
Child's hat and scarf set with car motifs, easy textured pattern. available in USA and UK format. Image:
nevla; and Free Pattern: Patterns for Crochet UK.
03. DIY Crochet Puff Stitch Hat
The dense puff stitches trap and hold in the heat better than most stitches. It's also quick. You can finish your hat in 3 hours or less! It's really very easy! Image and Free Pattern: B Hooked Crochet
04. DIY Crochet Bunny Baby Hat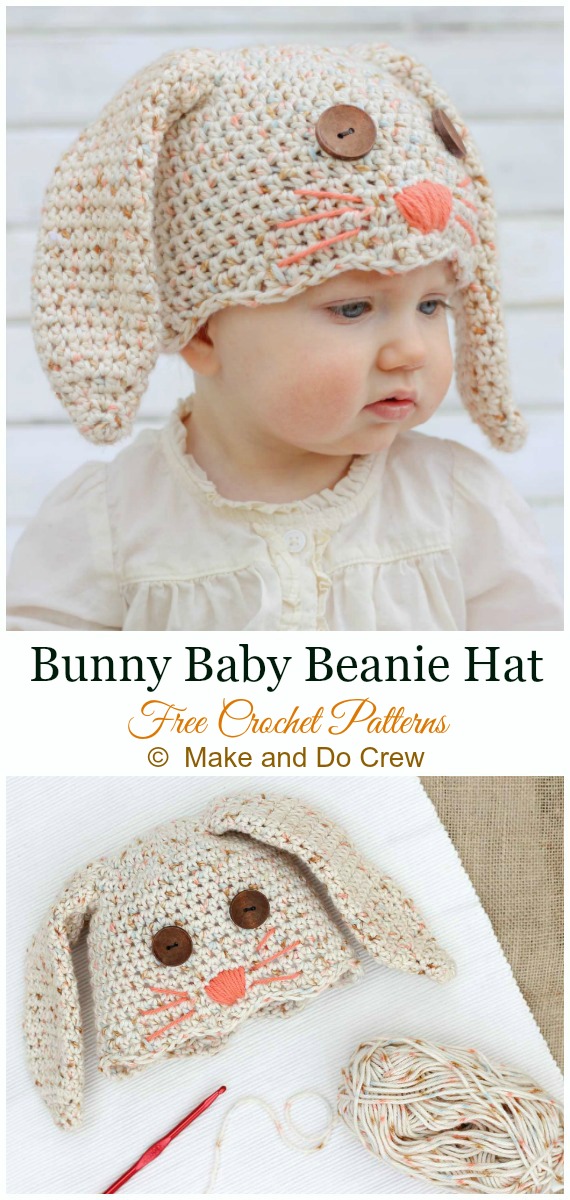 Image and Free Pattern: Make and Do Crew
05. Bunny Beanie Hat with Ears
Image and Free Pattern: Heart Hook Home
06. DIY Crochet Nautical Baby Hat
Image and Free Pattern: Make My Day Creative
07. Leafly Autumn Hat
Image and Free Pattern & Video: Wil Made