A collection of Metal Frame Coin Purse Free Crochet Patterns for Summer. Keep your cash, makeup and little accessories handy with these adorable crochet coin purses our is going to share with you! Crochet your little pouches and sew them into metal frame/Kiss Lock to free your hands and keep your belongings safe inside! These stylish clutches or coin purses are the items that makes an accomplish look of a woman to get ready fashionably for a party, and get little accessories organized in handbag, too. Easy to stitch out with little yarn, easy to personalize and let you flaunt a colorful, gorgeous and unique purse in your hands matching your whole dress up. You can also add a few contrasting stripes for simple decoration, or for more embellishment. There are paid patterns available as usual at bottom, scroll down and pick up the one from simple solids to playful novelty features. Be sure to join our Pinterest Group for the latest and be sure to follow our Crochet and Knit Page, too.
Related:
Crochet Drawstring Bags Free Patterns
Crochet Clutch Bag & Purse Free Patterns
Crochet Kids Bags Free Patterns
01. Basic Solid Coin Purse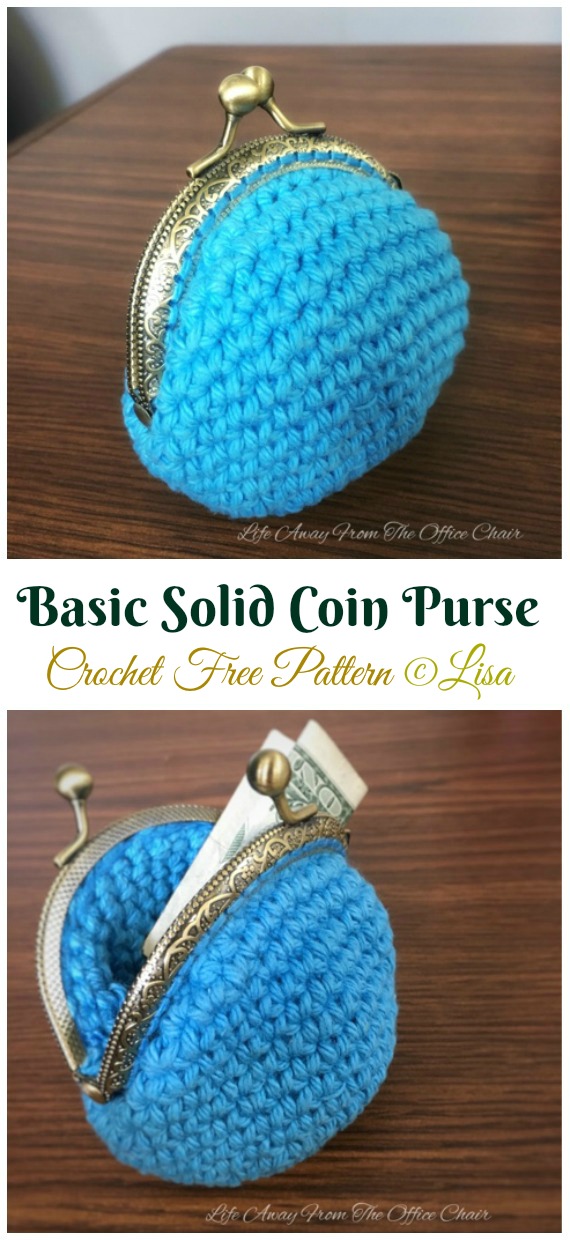 If you're looking for a classic design, you can't go wrong with this simple solid coin purse. Image and Free Pattern: Life Away from the Office Chair.
02. Vintage crochet Coin Purse
Image [Bottom]: PatriSG; Image and Free Pattern : lanas y ovillos
03. Motif Pouch
This granny square coin purse is perfect for anyone who loves vintage chic. Image and Free Pattern : Pierrot Yarns Patterns
04. Classic Frame Purse
Crochet purses with color blocks to create unique pattern in your flare. Image and Free Pattern: Chabepatterns
05. Tulips Coin Purse
How to crochet a coin purse and how to crochet the tulip stitch. Image and Free Pattern: De Estraperlo
06. Puff Stitch Coin Purse
Creating with colors can therefore brighten up your mood and give you a sense of serenity Image and Free Pattern : DMC Website (USA)