It is the right time of the year to start your D.I.Y gardens and grow your own strawberries. Strawberry plants should be planted from late spring to early summer and will harvest in about 2 months after planting. As many farmers has started their planting with plastic covered runners in large scale, our Garden Channel are trying to find ways to grow strawberries with and without open land in our own homestead, just around our house. Strawberries are incredibly easy to grow, and they can be grown almost anywhere: in borders, containers or hanging baskets. Scroll down and dig out the possibilities that you can explore to harvest your home-grown strawberries!
Related:
20 DIY Upcycled Container Gardening Planters
DIY Vertical Pyramid Tower Raised Garden Beds
12 Simple DIY Compost Bin Projects
Most urban or even some rural areas has no open ground in latest estate, so let's start from planters off ground first.
01. DIY Vertical Planter Box Garden
Get the resin window boxes from home depot and build a cascade wood frame to build a Vertical Planter Box Garden with full sun.
Image and Instructions: Helpful Homemade
02. DIY Vertical Strawberry Garden Pyramid Tower
Pyramid tower can be handy to grow veggies and strawberries without ground, read more DIY Vertical Pyramid Tower Raised Garden Beds.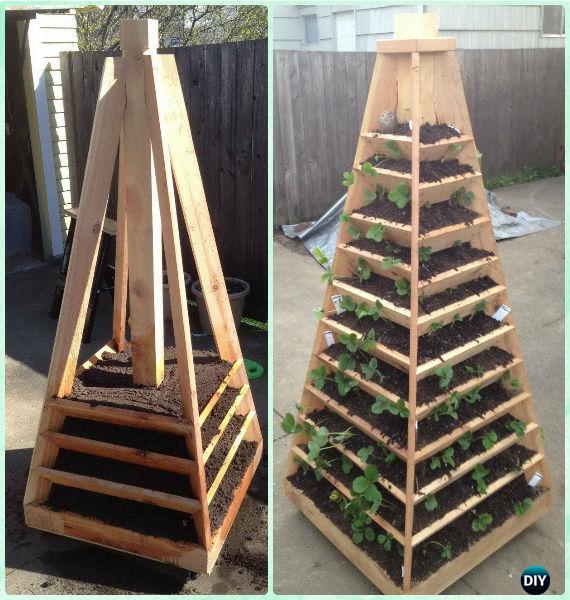 Image and Instructions: Remove And Replace
03. DIY Vertical Strawberry Pallet Planter
A single wood pallet can do all the magic into a vertical planter box, the space between wood slices is just right to plant strawberry in. Build this pallet planter wall no matter on concrete or ground.
Image and Instructions: Lovely Greens & Easy Pallet Ideas
04. Plastic Pot Strawberry Tower with Built In reservoir
Container gardening is popular and this built in reservoir using plastic bottle will cost you almost nothing for your seasonal gardening.
Image and Instructions: A Piece of Rainbow